The Journal of Design Strategies, Volume 7, is now available on the Design Dialogues website!
LETTER FROM THE EDITORS:
Over the last decade, under the banner of a "democratized" consumerism driven by ever-cheaper and more rapid production methods, fashion has become a phenomenon saturating the everyday life of most western societies. The dominant discourse and practice of fashion, which tend to support core values of the market economy, have made the fashion industry more ubiquitous and influential than ever before, but have also transformed it into an unsustainable behemoth in serious need of change.
Can we identify other fashion systems and narratives, currently subsisting in the shadow of the dominant one: everyday practices of dress; alternative modes of exchange; deviant historical and cultural modes of production, consumption and dress; participatory, "do-it-yourself" (DIY), and other practices at the fringes of the mainstream fashion system? Could these parallel systems be nurtured and organized, creating visibility and proposing socially sustainable alternatives to the dominant models of clothing provision and the dissemination of style?
This issue of The Journal of Design Strategies examines alternative fashion systems now developing in the margins and interstices of the dominant market model, collecting cases, examples, and proposals from across the world and providing access points for the
advancement of new practices and educational models in fashion.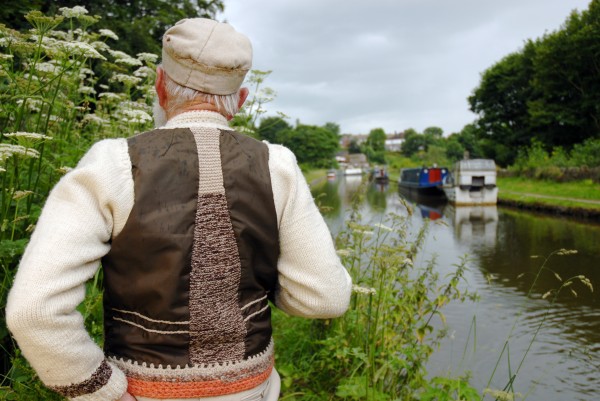 This issue of the Journal is divided into three sections. The first contains articles provided by the invited Stephan Weiss Lecturers of 2012-13. Sustainable fashion theorist Kate Fletcher shares examples of some of her work intended to promote more thoughtful and resourceful ways of maintaining and relating to one's clothes, and a more general conception of prosperity that goes beyond mere purchasing power. Political activist and open-source pioneer Zoe Romano details her role in an elaborate hoax carried out during the 2005 Milan Fashion Week, and her more recent efforts to develop an open-source fashion brand. Artist J. Morgan Puett surveys some of her many art projects and installations that have explored various aspects of attire, particularly in their social implications. Artist and fashion theorist Joke Robaard offers a meditation on textile-based metaphors, and their power to illuminate aspects of social and political life more generally.
Section 2 comprises a series of short "vignettes," each exploring a practice that in some way represents an alternative to the mainstream fashion system. In an interview, textile artists 12-na discuss their practice of using recycled clothing both as means of exploratory self-expression and in the creation of unique, high-value garments. Artist Miriam Dym shares her practice of removing commercial logos from garments, replacing them with randomly-shaped patches in contrasting colors. Branding consultant Giana Pilar González describes her method for "hacking" the brand codes of luxury fashion lines, extracting elements and motifs that can be incorporated into other clothing items by the "craftivist" fashion lovers who attend her workshops. Textile expert Jade Whitson-Smith discusses her experiment in giving up the use of her washing machine for a year. Fashion and theater designer Margreet Sweerts describes the work of Painted, the artist collective she helped found, in particular their workshops providing instruction and support in old or almost-forgotten craft and repair methods for garments. Artist and publisher Marc Herbst
shares a speculative proposal for a "post-capitalist" fashion style. Installation artist Stephanie Syjuco discusses her web- and workshop-based project in which participants use crochet to "counterfeit" handbags based on recognizable designer styles. And sustainable fashion researcher Jennifer Ballie details a clothing "swap" initiative sponsored by the British retailer Marks & Spencer in conjunction with the UN agency Oxfam, and a correlated workshop she conducted in which participants were encouraged to redesign and repurpose existing garments using simple dressmaking techniques, taught on the spot.
Section 3 includes four "case studies," each exploring a current initiative that in some way complicates the standard top-down and consumption-driven structure of the contemporary fashion industry. Fashion studies doctoral candidate Lauren Downing Peters exposes the inner workings of the Brooklyn Flea, a thriving series of flea markets that are helping stimulate, while also profiting from, an increasing interest in pre-owned and vintage clothing. Journalist, curator, and fashion designer Rachael Kinnard investigates the robust culture that has sprung up on the Burda.com website, a commercial outlet for downloadable sewing patterns which has also become a large repository of reviews, advice, and general support, created by and for home sewing enthusiasts. Fashion studies researcher Alessandro Esculapio discusses the emergence of clothing libraries in Sweden. Finally, fashion designer and researcher Amy Twigger Holroyd shares some materials from her doctoral studies focused on the practice of "re-knitting"—unraveling part of a knitted garment in order to repair or refashion it—and the emotional resonances connected with
this practice.
The range and diversity of these various initiatives hint at the amount of creative and reflective energy being devoted to some of the challenges associated with mainstream fashion. But they also attest to the abiding importance of fashion itself, as a vehicle for self-definition and differentiation. In the end, these projects suggest that a true "democratization of style" must go beyond increasing the number of available consumption choices, engaging people more directly in the active and intentional development of their personal style, and of the clothing they choose to express it.
SECTION 1: STEPHAN WEISS LECTURES
IN THE HANDS OF THE USER: The Local Wisdom Project and the Search for an Alternative Fashion System / Kate Fletcher
From Open-Source Branding to Collaborative Clothing / Zoe Romano
Workstyles / J. Morgan Puett
A Winning Fabric, A Broken Text / Joke Robaard
SECTION 2: VIGNETTES
Wardrobe, Recycling, and Consequence: Interview with Mariano Breccia and Mechi Martinez of 12-na / Interviewed by Elizabeth Oria
Logo Removal Service / Miriam Dym
Fashion Codes Hacked, Indexed, and Shared / Giana Pilar González
Laundry Habits / Jade Whitson-Smith
Golden Joinery: On Imperfect Beauty / Margreet Sweerts
Fashion 2012 / Marc Herbst
The Counterfeit Crochet Project (Critique of a Political Economy) / Stephanie Syjuco
Textile Design Services for Fashion: Unpick and Remix / Jennifer Ballie
SECTION 3: CASE STUDIES
The Brooklyn Flea: A Model for Counter-Consumption? / Lauren Downing Peters
DISRUPTION THROUGH DOWNLOAD:
BurdaStyle.com and the Home Sewing Community / Rachel Kinnard
CHECK OUT SOME FASHION: Clothing Libraries in Sweden / Alessandro Esculapio
RE-KNITTING: The Emotional Experience of Opening Knitted Garments / Amy Twigger Holroyd
Pascale Gatzen and Otto von Busch
Guest Editors, The Journal of Design Strategies
Volume 7