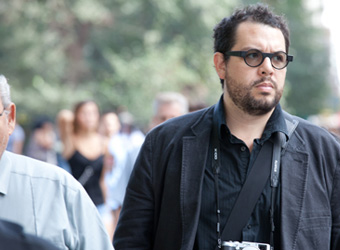 Miguel witnessed the rapid transformation of San Diego, California, and Tijuana, Mexico, after moving to the borderland region when he was nine. "The Mexican side exploded in growth because of the North American Free Trade Agreement," he says. "But it declined just as quickly when labor became cheaper in Asia." The city's rapid decay made a lasting impression on Robles-Durán and motivated him to study urbanism.
Robles-Durán left California to study in the Netherlands and received an advanced master's degree in urbanism from Rotterdam's Berlage Institute. He went on to earn a PhD in unitary urban theory and the political economy of urbanization, designing his own curriculum in collaboration with Berlage Institute and TU Delft (the Delft University of Technology) while teaching at those two institutions and at the University of Leuven in Belgium and the Zurich University of the Arts in Switzerland. In Rotterdam, Robles-Durán cofounded Cohabitation Strategies, an international nonprofit for sociospatial development focusing on urban decline, inequality, and segregation. He recently co-authored and co-edited the book Urban Asymmetries: Studies and Projects on Neoliberal Urbanization.
Robles-Durán draws heavily on his experience working in the field. "In professional practice, you have to come to the table with feasible, progressive, and socially relevant strategies because you're responsible for setting conditions for a large population," he says. "In academia, I push students to experiment and explore more radical propositions that can trigger other directions in professional practice. All the projects I've worked on have informed my teaching, and vice versa. It's a dialogue between the two."
Robles-Durán believes that academic programs should be embedded in real-world scenarios and respond to present and future needs in progressive ways. "The new student generations are disgusted by what's going on in cities today all over the world: gentrification, real estate speculation, social and spatial injustice, urban development by increasingly fragmented private-public partnerships. All these complex 21st-century issues need to be addressed by new trained professionals.
"At Parsons and other divisions of The New School, we've got great designers but also great environmentalists, social scientists, planners, and policymakers—actually some of the best in the United States. We're challenging students to look at the city from multiple perspectives and preparing them to lead transdisciplinary teams for urban transformation. What we're doing is so relevant that it's hard to believe no other U.S. school teaches it this way."
BIO
Urbanist, Professor of the Urban Ecologies graduate program at the New School/Parsons in New York, Senior fellow at "Civic City", a post-graduate design/research program based in HEAD Geneva, Switzerland and cofounder of "Cohabitation Strategies", an international non-profit cooperative for socio-spatial development based in New York and Rotterdam, The Netherlands. Robles-Dur_n has wide international experience in the strategic definition/coordination of trans-disciplinary urban projects, as well as in the development tactical design strategies and civic engagement platforms that confront the contradictions of neoliberal urbanization. He recently co-edited/authored the book "Urban Asymmetries: Studies and Projects on Neoliberal Urbanization" that reviews the dire consequences that neoliberal urban policies have had upon the city and discusses possible alternatives to market-driven development. Robles-Dur_n's areas of specialization are design/research interventions and strategies in uneven urbanization and areas of social urban conflict, urban political-economy and urban theory.
COURSES TAUGHT
Urban Ecologies Studio 1 & 2
The Production of Space
RESEARCH INTERESTS
Architectural criticism
Theory
Urban design
Urban ecologies
Urban studies
WEBSITE
http://www.cohstra.org/
CONTACT
roblesdm@newschool.edu