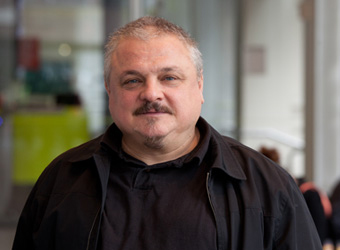 Assistant Professor of Design and Management
A faculty member in the undergraduate Design and Management program at Parsons' School of Design Strategies since 2001, Jonatan Jelen is a close observer of the changing global economy. His newest course—The Logic of Markets, part of the Art and Design History and Theory curriculum—provides students with a foundation for understanding an important dynamic in the world they will enter after graduation.
Jelen is the director of an innovative graduate program for the university, which gives him a chance to develop his research into design-driven businesses even further. The MS in Strategic Design and Management program combines instruction in business and design to prepare graduates for emerging fields in the management of information and services. Jelen has ambitious goals for those in his program. "I want to offer students a rigorous curriculum that challenges their thinking on business and economics. In the end, my students will play a role in designing and shaping the new economy."
Before coming to Parsons, Jelen held positions ranging from vice president of sales and marketing and director of MIS to consultant at such prestigious companies as Bank of New York, Bloomberg, Lancetti Cosmetics Corp., Kay Collyer & Boose LLP, and Euro Equities. Jelen's work experience, combined with a JD, an MBA, and studies toward a PhD, provides him with a solid foundation for developing his ideas about business systems, especially information technology. "Information technology is not just a way to do things cheaper, faster, or better," he says. "IT has changed the way people think about and do business. I think we need to consider information technology paradigmatically rather than pragmatically, and design and design management offer an ideal framework for testing this theory."
Multitalented and intellectually curious, Jelen is involved in a number of entrepreneurial organizations, including InYourClass.com, an enterprise aiming to create a "Facebook for learning"; and Greenproofing, a nonprofit organization that offers consulting on sustainability and ecology issues.
See Jonatan Jelen talk about Designing the Creative Economy here.