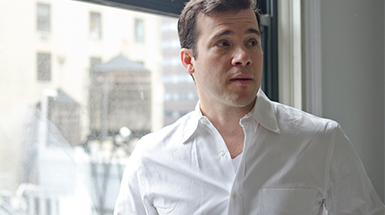 In his solo practice, Adam Brent creates sculptural installations that combine architectural and organic elements to explore issues of nature, reflection, interiors and structure. He received his BFA from the Maryland Institute, College of Art in 1995 and his MFA in sculpture from Parsons School of Design in 2001. He recently had a solo exhibition as Artspace New Haven in the summer of 2013 and his work has been exhibited at such notable museums, institutions and galleries as The Islip Art Museum, The Bronx Museum for Contemporary Art, The Aldrich Museum For Contemporary Art, The New Museum's Festival of Ideas, Aljira Center for Contemporary Art, Artists Space, Apex Art, Margaret Thatcher Projects, Gathering of The Tribes, Wave Hill, BRIC Rotunda, Momenta Gallery, The Bronx River Art Center, The New York Department of Transportation's Urban Art Program, The New York Public Library, The 2012 Venice Architecture Biennale, The Center for Book Arts and several university galleries. Additionally, he has studied in notable residences such as Artists in the Marketplace at the Bronx Museum and Emerge at the Aljira Center for Contemporary Arts in Newark NJ.
As the Director of the BFA in Integrated Design, Parsons School of Design, he has advanced a flexible curriculum that is philosophically grounded in the belief that design is an agent for positive social change.  Brent taught in and coordinated SDS Foundation the 3D Curriculum from 2007 – 2012.
Brent is also a principle-founding member of the BroLab Collective. BroLab will have its first major solo exhibition at Freight + Volume Gallery in New York in early 2014 and recently completed a 2-year installation for the Bronx Museum's Lobby. Their first book of collaborative work was published in the spring of 2013 by Seton Hall University. Brent has received grants from The Greater New York Arts Development Fund as administered through the Brooklyn Arts Council and the New York Foundation for Contemporary Art and recently received grants from the Elizabeth Firestone Graham Foundation, Newark Arts Council, and the Puffin Foundation. His individual and collective work has received critical attention from the Village Voice, L Magazine, The NY Press, Art Critical, The New York Daily News, Architect Magazine, Architizer, and the New York Times.
PAST COURSES TAUGHT
Urban Interventions
Temporary Works
RESEARCH INTERESTS
Installation, performance, sculpture.
WEBSITES
adambrent.com/
Brolab.org 
www.freightandvolume.com/artists/brolab/
www.architizer.com/en_us/blog/dyn/47712/biennale-bulletin-here-we-come-venice/#.Uef19GT47qs
www.spontaneousinterventions.org/project/bench-press
www.spontaneousinterventions.org/project/piazza-gratissima
fort-greene.thelocal.nytimes.com/2011/02/24/last-chance-to-see-neo-nomads/
EXTERNAL PARTNERS
The Bronx Museum
The NYC Department of Transportation
Art and Odd Places
Institute for Urban Design
CONTACT
brenta@newschool.edu