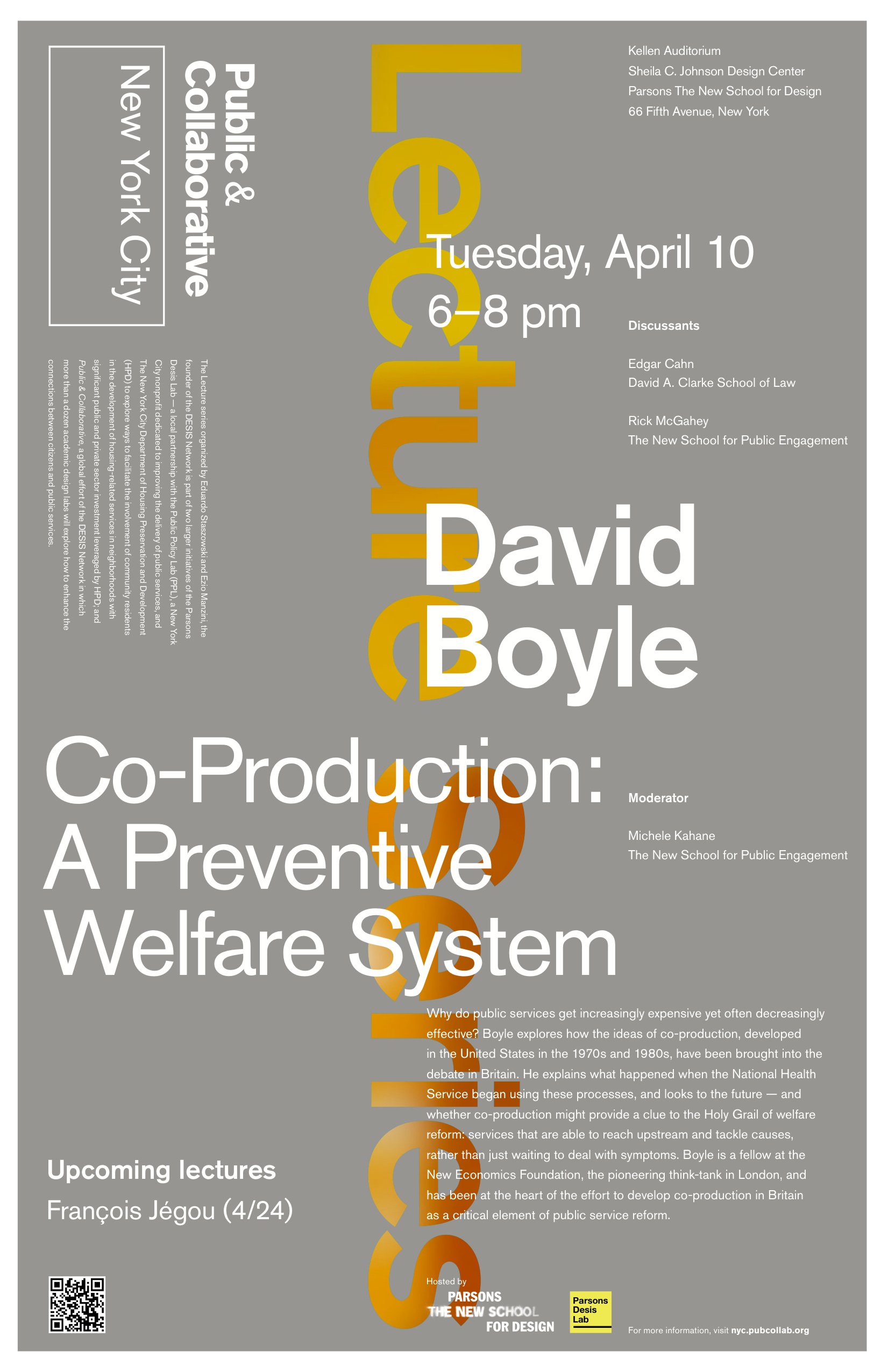 Parsons DESIS Lab presents
Public & Collaborative NYC
Lecture Series
Discussants:
Edgar Cahn, David A. Clarke School of Law
Rick McGahey, The New School for Public Engagement
Moderator:
Michele Kahane, The New School for Public Engagement
Why do public services get increasingly expensive yet often decreasingly effective?  Boyle explores how the ideas of co-production, developed in the United States in the 1970s and 1980s, have been brought into the debate in Britain.  He explains what happened when the National Health Service began using these processes, and looks to the future – and whether co-production might provide a clue to the Holy Grail of welfare reform: services that are able to reach upstream and tackle causes, rather than just waiting to deal with symptoms. Boyle is a fellow at the New Economics Foundation, the pioneering think-tank in London, and has been at the heart of the effort to develop co-production in Britain as a critical element of public service reform.
The Lec­ture series organ­ized by Eduardo Staszowski and Ezio Man­zini, the founder of the DESIS Net­work, who is serving as a vis­it­ing pro­fessor at Par­sons this spring is part of two lar­ger ini­ti­at­ives of the Par­sons Desis Lab — a local part­ner­ship with the Pub­lic Policy Lab (PPL), a New York City non­profit ded­ic­ated to improv­ing the deliv­ery of pub­lic ser­vices, and The New York City Depart­ment of Hous­ing Pre­ser­va­tion and Devel­op­ment (HPD) to explore ways to facil­it­ate the involve­ment of com­munity res­id­ents in the devel­op­ment of housing-related ser­vices in neigh­bor­hoods with sig­ni­fic­ant pub­lic and private sec­tor invest­ment lever­aged by HPD; and Pub­lic & Col­lab­or­at­ive, a global effort of the DESIS Net­work in which more than a dozen aca­demic design labs will explore how to enhance the con­nec­tions between cit­izens and pub­lic services.
Time: 6pm on Tuesday, April 10th
Location: Kellen Auditorium, Sheila C. Johnson Design Center
Upcoming Lecture:
François Jégou: From the Design of Pub­lic Ser­vices to the Design of Pub­lic Policies
Time: Tuesday, April 24, 6–8 pm
Lectures are free and open to the public. For more information, visit nyc.pubcollab.org.