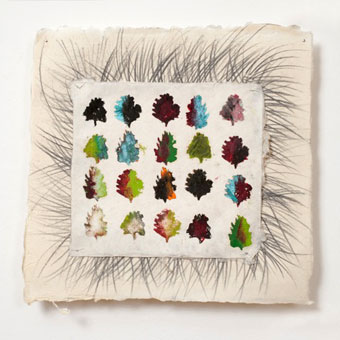 August 27, 2011 | This article by Nancy Weiss published at Naturally @ UConn investigates Barbara Siegel's 2011 installation at the A.I.R. Gallery in Brooklyn, NY and the late horticulturist Dr. Sidney Waxman.
"Dr. Sidney Waxman (1923–2005) lived life to the fullest. At his memorial service, held on a steamy June afternoon in 2005 at the Waxman Nursery in Storrs, his life and work were remembered with tributes from family, friends and colleagues from the College of Agriculture and Natural Resources where as a full professor, Waxman taught, conducted research and planted thousands of seedlings, many of which ended up in private and public gardens and nurseries across the country…Waxman's life story and work…struck an unexpected chord when New York City-based artist Barbara Siegel read his obituary in the New York Times and took Waxman's legacy in a new direction.
"Since 9/11, I've been doing biographical work. I saw Sid's obituary and there were so many things that fascinated me. First, the photo of him standing in the nursery. There was something sweet about him and his image and so poetic about the witches' brooms and Sid shooting them down for his collection and later for the New York Botanical Garden," said Siegel from her home in the Tribeca section of New York City.
Siegel presented her work, Arboretum, at the A.I.R. Gallery in Brooklyn, NY, in November 2011. The installation includes a variety of materials and media. Siegel used drawings, prints, sculptures, photographs, paintings and miniatures to tell the story of Waxman's life and work. Images of the distinguished horticulturalist were interspersed with drawings of the dwarf conifers he developed along with a collection of rulers and yard sticks to underscore the scale of many of the plants and, perhaps, the impact of Waxman's life."
To read more, visit http://www.naturally.uconn.edu/waxman.php.
To see photos of Barbara Siegel's exhibit, visit http://www.jeanettemay.com/AIR/Siegel/index.html.