October 4, 2012
6:00 pm
to
8:00 pm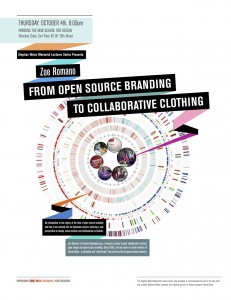 This year's Stephan Weiss Memorial Lecture Series begins on October 4 with a presentation by Zoe Romano entitled "From Open Source Branding to Collaborative Clothing." The lecture will provide an introduction to the origins of the idea of open-source branding, and how it has evolved into the Openwear project, fostering a new perspective on design, value creation and collaboration in fashion.
Zoe Romano co-founded Openwear.org, a European project around collaborative fashion, open design and open-source branding. Since 2005, she has been an active member of Serpica Naro, a collective and "meta-brand" that satirizes the European fashion industry.
Zoe's lecture will take place in the Hirschon Suite, 55 West 13th Street, 2nd floor, at 6pm, with a reception to follow.