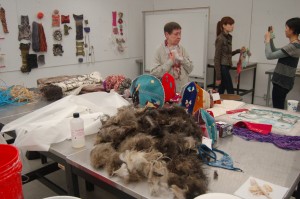 In the Spring 2012, IDC Networks:The Gift course, students created a textile library to share across the schools and departments at Parsons. The Gift Library contains textiles made from natural materials that are sourced from local fiber cooperatives and farms. Students worked together using our Textile Lab to facilitate experimentation with regionally grown materials and safe construction processes. They explored handcrafting methods such as; spinning, natural dyeing and printing, felted, knit and woven constructions, as well as sewn surface manipulation.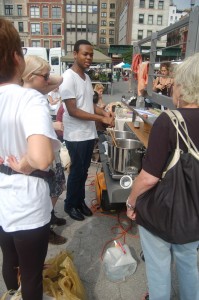 The Gift Library supports the use of local natural materials, and allows for a fluid exchange of handcrafting methods and practices amongst the student population at Parsons, allowing students to re-think their relationship to design, nature and larger systems of manufacturing. The Gift Library documents the tangible synthesis of agriculture and textile production, showing the interconnectedness of products and systems, while encouraging students to examine the role of local economies and explore sustainable systems of exchange and production that are community based.
The Gift Library is on display on the 5th floor of 2 West 13th Street.