| | | |
| --- | --- | --- |
| March 26, 2010 12:00 pm | to | April 4, 2010 6:00 pm |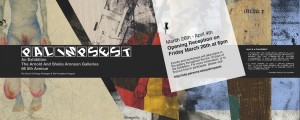 The exhibition Palimpsest highlights the interdisciplinary work created in the first year Foundation Program at Parsons the New School for Design. The word, palimpsest, embodies an idea of multiple iterations within the same frame and many authors of the same project. Process is, therefore, a central theme and it is used as a lens to view the practice and potential of the first-year student. The work spans a broad range of media and is presented to provoke the question: how can this first-year experience reflect the interdisciplinarity of 21st century art and design?
The exhibition also includes a series of events that will take place in the gallery during the opening and throughout the exhibition, adding layers and complexity to the conversation.
Aronson Gallery and project space
Opening event Friday March 26th
Closing event April 5th